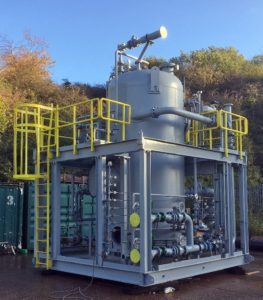 GFSA has recently completed a large Induced Gas Flotation (IGF) vessel that will to be installed as part of a new Offshore oil production facility located in Equatorial Guinea.
Induced Gas Flotation systems are typically used to clarify industrial wastewater produced in oil and gas production facilities, but also in petrochemical and chemical plants, and other similar industrial facilities. The process removes suspended matter, such as oil and other solids, by injecting gas into a flotation vessel or basin. The suspended matter adheres to the small bubbles and rises to the surface, where it is removed by a skimming device.
Produced water generally needs to be cleaned to below 30ppm prior to discharge and this IGF vessel needed to process 25,000 barrels of water per day. As with all complex industrial filtration and process equipment, a very high degree of technical and engineering expertise is required to meet the most exacting specifications and standards. The challenge for GFSA on this occasion, however, was not so much from a technical point of view but more that the IGF vessel needed to be manufactured during the global pandemic. The combination of a tight lead-time, self-isolating staff and supply-chain delays added to the complexity of the project.
The physical size of this skid-mounted unit was always going to be a challenge because the height of the unit, at 5.65m, exceeded the allowable transportation height on the route from the manufacturing plant in Birmingham to the shipping port. The finished unit was 4.5m long, 4m wide and weighed 20 Tonnes. Given these dimensions, the unit was designed to be transported horizontally and additional strengthening was incorporated into the skid design to support the vessel.
Despite the challenges of the pandemic and Brexit during an unprecedented year, GFSA has maintained its production capacity and workforce, and is looking forward to getting back to a more normal trading environment. As Simon Goddard, MD at GFSA confirmed; "The pandemic has added a whole new set of challenges to us during this period but we have maintained our design and manufacturing capability throughout, and delivered a project we are proud of once again"